Hurricane Resistant

Earthquake Resistant

Fire Resistant

Termite Resistant

Y Houses for your safety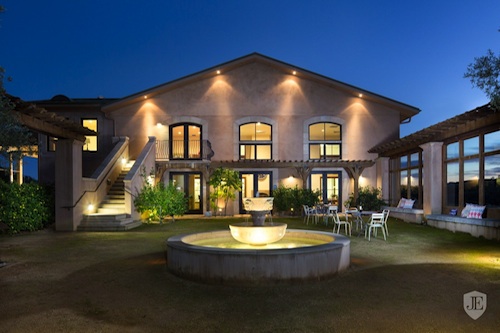 HEFTY Homes are built with 3D Panels – a new innovative prefabricated panels building system for structures in dry adverse climates where fire is a constant threat, or climates where Hurricanes and Earthquakes are a constant threat. It's also ideal for termite-free structures.
What it is – 3D Panels is an extremely strong structural product consisting of a super-insulated core of rigid expanded polystyrene sandwiched between two-engineered sheets of eleven-gauge steel welded wire fabric mesh. To complete the panels form process a nine-gauge steel truss wire is pierced completely through the polystyrene core at off set angles for superior strength, then welded to each of the outer layer sheets of eleven-gauge steel welded wire fabric mesh.
Cement is then applied over the welded wire mesh. The polystyrene core acts as backing for the cement. The combination of the polystyrene core and the cement creates a 3d panels (a structural concrete insulated panel) that becomes a structural load bearing wall of enormous strength. The cement can be hand or machine applied.
With the 3D Panels system we create a virtual hurricane, earthquake, tornado, fire, flood, termite, and disaster proof structure.
Load Bearing – A typical 8-foot-high 3D Panels with 2.5" polystyrene core using eleven-gauge wire has been tested at a structural load of over 60,300 lbs. The typical wood frame and metal frame wall cannot compare to the 3D Panels strength.
Fire Resistant – 3D Panels is an ideal building product for structures in dry adverse climates where fire is a constant threat. The polystyrene core will not burn and does not contain ozone-damaging chlorofluorocarbons (CFC's) in the manufacturing process or in the product. A structure built with 3D Panels is non-combustible and virtually fire proof, with a minimum 1.5-hour fire rating. A higher rating can easily be attained.
Wind Resistant – 3D Panels homes are built to withstand hurricane force winds. In laboratory testing, the 3D Panels withstood wind loads of 226 miles per hour.
Earthquake Safe – The 3D Panels constructed homes are virtually tremor safe having survived earthquakes with zero structural effects.
Sound Resistant – The double shell configuration of the concrete plus polystyrene plus concrete sandwich minimizes sound transmissions.
Safe, durable, and long lasting – The poly core is inert, non-flammable, non-toxic, and water resistant. It will not rot and is highly resistant to mildew. Aging has no effect upon its performance and it can withstand temperatures from sub-freezing to 180 degrees, assuring long-term performance.
Cost-Effective and Environmentally Comfortable – The 3D Panels System has been designed with maximum environmental comfort in mind. The system saves 50% to 80% on heating cost and reduces the needed size and cost of HVAC systems. In one documented test maximum heat loss was just 5%. It will keep you cooler in summer and warmer in winter. A wood structure simply cannot compare. The modified expanded polystyrene core meets all VA, FHA, and HUD thermal requirements.
Flexible – The 3D Panels Building System has tremendous flexibility. It may be used in place of wood or metal-framed walls, masonry block walls or pre-cast panels. It is an excellent structural system for floors, ceilings, and roofs.
You can build curved or radius walls by cutting the eleven-gauge wire on one side of the panel. This will allow the panel to bend to the desired shape or radius.
Shelves can be created by fastening a horizontal piece of panel to the wall width with the use of wire mesh corner angles.
Decorative openings can be created by cutting holes through the panels.
* * * * * * *
HEFTY Homes, a division of Countryside Creations, Inc., and a member of the 3D Builder's Group is a factory direct distributor for 3D Panels.
The 3D Panels System offers an innovative and cost-effective building alternative to traditional building methods. It is the ultimate answer for home owners and businesses who wish to create a truly hurricane-safe, earthquake-safe, fire-safe, and termite-proof home or structure.
We market the panels, build with the panels, and teach other qualified builders how to build with the panels.
Our expertise extends from conception to project completion. Whether you are the Home Owner or the Home Builder we can help you with cost-effective suggestions, and with engineering and architectural work.
We invite you to contact us with your inquiries and welcome the opportunity to provide you with our expertise and technical assistance.